RECORDED VOICE FOR EVENTS
A new source of voiceover ideas for virtual events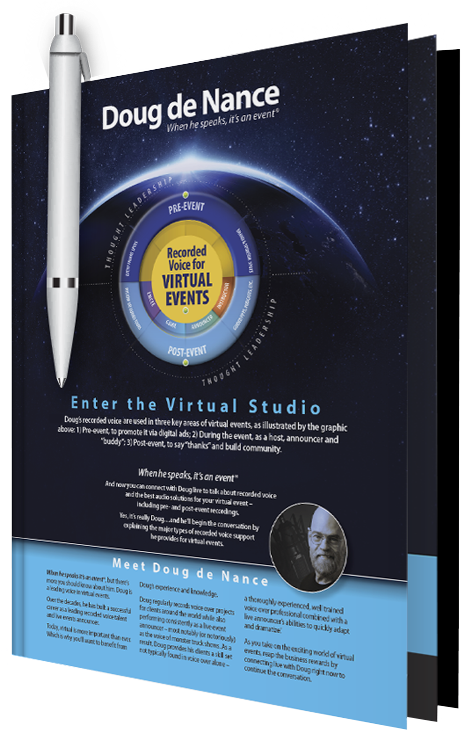 Doug de Nance Event VoiceOver Demo:
Download this FREE Checklist to make your Virtual Events better-than-ever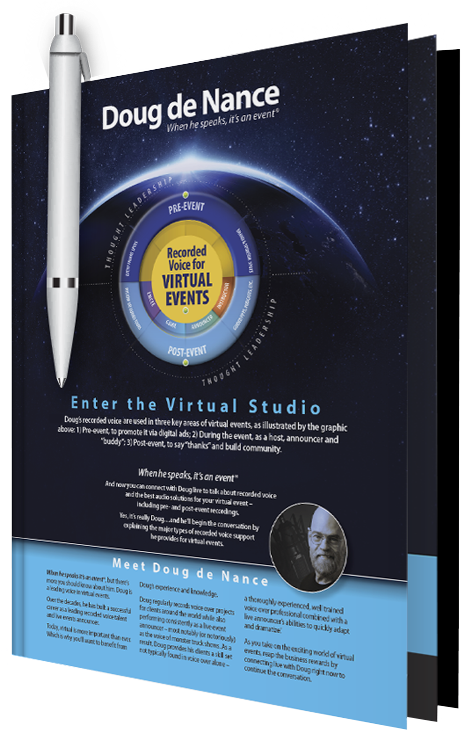 Here are five ideas on how Doug can best support your vision for a better virtual event:
SET THE STAGE
Now that your audiences attend virtual events wherever they are,in front of their favorite screens, they can experience great audio, too. Let's seize the moment (as soon as your event begins) with recorded voice announcements that set the stage, introduce speakers and deliver an engaging, consistent virtual experience to your audience.
ENLIST A VIRTUAL HOST
As you've mentioned to me, attendees now join Virtual Events from all over the world. You're bringing leaders, celebrities and experts together for audiences. I can help you develop recorded voice as a "buddy in the room" to help people navigate the event and explain the "house rules," bringing unity, clarity and comfort to the audience. They'll appreciate it.
CREATE BRAND CONSISTENCY
With recorded voice of the event host and video segments, your Virtual Event can be as good or better than when held only in a live venue. We'll work together to produce recorded voice solutions that ensure brand consistency when the same voice is used in both videos and live segment announcements.
PRE-PROMOTE AND SELL IT OUT
To help sell out your clients' virtual events, let's give prospective attendees a sneak preview of the experience. We can use recorded voice in online ads that pre-promote the events. Use the same recorded voice during the event - building brand consistency.
BUILD A POST-EVENT COMMUNITY
Once you've delivered an outstanding Virtual Event, why not celebrate it and deepen the audience relationship? Highlights videos, guided PowerPoints, sponsor appreciation posts and podcasts enhanced by recorded narration can be the perfect post-event follow-up. You can use the same brand voice in social media to continue the dialogue after the event and create an even stronger post-event community.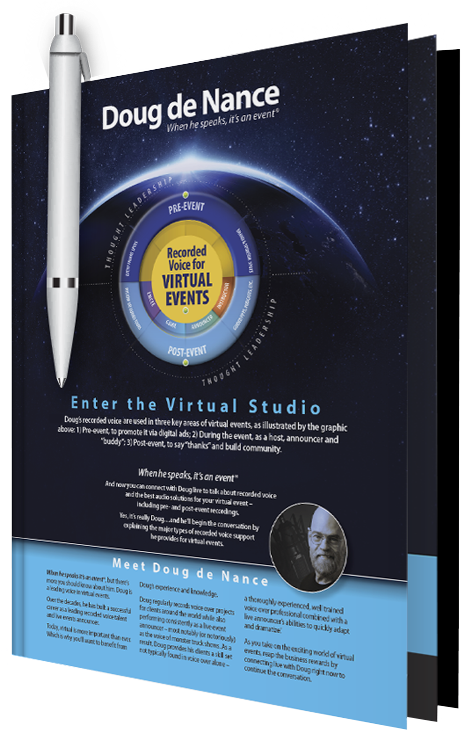 Download this FREE Checklist to make your Virtual Events better-than-ever