RE-IMAGINE EVENTS FOR YOUR CLIENTS
Listen to Doug's Recorded Voice for Events Demo: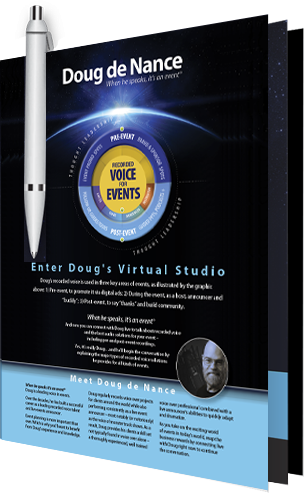 Great events sound like this:
Download our FREE Checklist to make your Events sound better-than-ever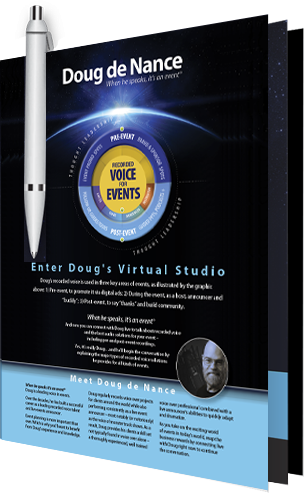 5 IDEAS FOR RECORDED VOICE IN EVENTS… THAT YOUR CLIENTS WILL LOVE!
SET THE STAGE WITH SOUND
Deliver a sneak preview of your event in social posts and be sure to use recorded voice in them.
SELL IT OUT WITH TALKING ADS
Use the same recorded voice in online ads to suggest that people click through and buy tickets.
OVER-DELIVER ON THE DAY
During the event, use recorded voice as a "buddy in the room" to let people know the "house rules" and navigate the event.
BRAND IT INTO MEMORY
Use recorded voice through the campaigns, during the event and after-the-fact. Build brand consistency and recall.
LAUNCH A POST-EVENT COMMUNITY
Once you've delivered an outstanding event, celebrate it! Deepen the relationship with new fans. Use the voice they loved at the event in highlight clips.
LIMITED TIME OFFER:
Bring your ideas to life!
NO CHARGE CUSTOM AUDITION

Showcase how recorded voice can enhance your event!
HEAR WHAT DOUG'S CLIENTS HAVE TO SAY:
Doug's vocal versatility earns him the opportunity to work with many great clients:
I WANT TO HEAR MORE!
Connect with Doug and learn more about how he can enhance your event
***LIMITED TIME OFFER***
Take advantage of Doug's special offer to record your script (up to 50 words) for FREE!
Simply type "AUDITION" in the Subject box and your script in the Message box.
Listen to Doug's Recorded Voice for Events Demo:
Great virtual events sound like this: